Transportation of seeders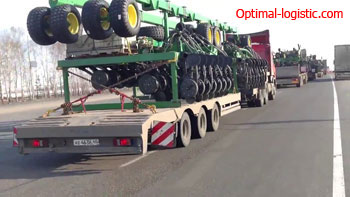 Our company works promptly, therefore, once you need help, the transportation of the seeder will be organized. The cost of services can be specified personally. The manager of the company is always ready to discuss all the questions on the phone, to explain the incomprehensible moments. Optimal Logistic deals with oversized and heavy transportations, here also includes agriculture, which includes seeders. Transportation is carried out in Ukraine, Europe and Central Asia. Enough filling in the application, specify the points of departure and destination. The most important thing is reliability and Optimal Logistic guarantees it. All machinery is delivered in complete safety. The unit is firmly fixed and in this position is located throughout the road. Employees of the organization are responsible, experienced, therefore each client has confidence in them.
Cost of transportation of seeders
The cost can be calculated independently. Transportation of seeders is a popular order from agricultural organizations in the spring-autumn period.The cost of transportation depends on:
cargo weight;
length;
width;
height;
additional information about the cargo.
The site has a section that allows you to calculate the price yourself. This is done quickly, employees immediately contact the client and negotiate the nuances. To do this, indicate the contact details for which you can be contacted to discuss all the details.Optimal Logistic has a good reputation and loyal customers. The organization guarantees quality work, honest cooperation, prompt assistance. Many are concerned about prices – here we guarantee savings, as the cost of transporting seeders is available to everyone.