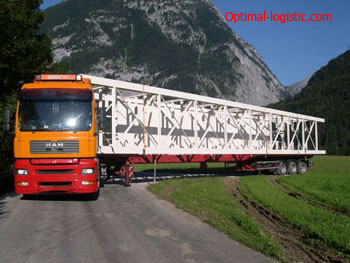 For the transportation of a certain type of equipment and machinery, special rules for the transportation of oversized cargo by road are prescribed, which provide all aspects for the safety of facilities. Optimal logistics company offers its customers services in compliance with all norms and requirements of the legislation. Our clients can be sure that delivery will be carried out in the stipulated terms.
Rules of transportation of oversized cargoes by motor transport and the benefits of optimal Logistik
Oversized loads are those whose weight and dimensions exceed the permissible parameters for cargo transportation. Their dimensions are more than:
two point six feet wide;
twenty-two metres long;
two-meter overhang of the load beyond the rear of the envelope transport;
four meters high (from the road surface).
Therefore, for road transport:
carry out preparatory work (dismantling/dismantling of objects into parts, registration of permits and related documentation).
Have special equipment (in our fleet there are cars with the necessary dimensions).
Work out the route (taking into account the condition of the road surface, the presence of high-Ivoltage lines, the load capacity of overpasses and bridges, etc.).
t is Also important to observe the speed limit for the safety of drivers and goods:< / p>
sixty km / h on roads;
fifteen km / h on bridges;
to undertake trips in poor visibility (less than a hundred meters).
The benefits of Optimal Logistic
We have extensive experience in providing these services. Our customers receive:< / p>
qualified consultation;
calculation of transportation cost;
prompt execution of orders (you can order the service on the website or by phone and specify all the nuances and terms of work);
cooperation with professionals;
favorable prices for services (we offer transportation in Ukraine, Central Asia, Europe at affordable prices. The cost is charged only for the delivery of goods in one direction).
We know and follow all the rules of transportation of oversized cargo by road, so we guarantee the safety of objects and delivery on time. Contact the professionals!