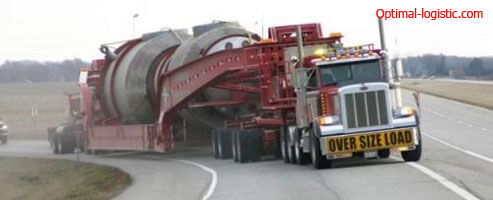 Optimal logistics company carries out transportation of large-size heavy cargoes by specialized transport, namely: drilling machines, bulldozers, rollers, excavators, turbines, reactors, etc.The Company offers services on acceptable conditions for the customer, timely fulfills its obligations, has a large customer base, positive feedback.
Why the transportation of bulky heavy loads should buy it from optimal Logistik
The company's Specialists have extensive practice, competence, responsibility, always strive to take into account the wishes of each client, to offer a favorable calculation of the cost of transportation.Over a long period of work, the company has accumulated sufficient experience for efficient transportation. Prices of services are more than reasonable, lower than those of competitors. The cost of delivery is eaten only in one direction. This is a huge plus of our campaign, as competing organizations take payment for the return journey of vehicles to the fleet.
Transport and preparation of heavy and bulky goods
The load/unit is lifted onto the platform. It is evenly, carefully distributed, fixed, carefully strengthened on vehicles, which 100% guarantees its preservation to the destination. Logisticians check the quality of the work performed and only then carry out directly, delivery.For a successful transport is made by the following steps:
the optimal transport for the order is selected;
route optimization, the presence in the path of the points of service of transport of gas stations;
using the most appropriate additional equipment;
vehicle inspection for any faults;
instructing the driver about difficult road sections, weather forecast;
on possible force majeure circumstances.
Transport of bulky and heavy goods: destinations
Delivery is carried out:
throughout Ukraine;
European part of the world;
by countries of Central Asia.
You can place an order at any time on the website http://optimal-logistic.com mmm. If you have any questions, please call or request a free call. Our managers will consult you absolutely free of charge. Our mode of operation can be found on the web resource in the Contacts section.Transportation of bulky heavy cargo from optimal logistics is a guarantee of availability, professionalism and timely delivery. Contact & ndash; always happy to cooperate!