Transportation of yachts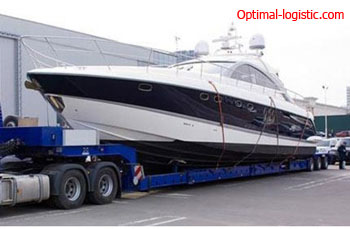 To ensure that the transportation of yachts has been carried out in integrity and in time it is necessary to contact the professionals. Optimal Logistic has a huge experience in transporting a wide variety of goods and equipment. We offer transportation of motor yachts both in Ukraine and abroad (Central Asia, European countries). We inspect the equipment during loading and unloading, and also monitor its condition during the whole journey. For example, when crossing a railway track, a yacht, if unstable, may tilt or loosen. This is fraught with breakage and damage.
Transportation of motor yachts: features and advantages
Our company has everything necessary to transport yachts. Maritime vessels on land are a fairly fragile technique, they should be properly and firmly fixed, especially for prolonged transport. They have different dimensions and features, depending on the model and manufacturer. By trusting us with our ship, customers can be sure that it will be delivered within the specified time exactly to the address. We comply with the terms of the contracts and negotiate with the client all the nuances of carrying the yacht. The main advantages of our company are:
Full staff. Drivers with many years of experience, qualified logisticians and technical staff have extensive experience in the transportation of a wide variety of goods. They will work out a suitable route. In the development of the following take into account traffic on the roads, the presence of bridges and railroad crossings, as well as the terrain. This is important to exclude the risks of delay in transit and other force majeure circumstances.
Presence of own special equipment, original fasteners and a chain for a ladder. The use of a ramp with a front-seat trip allows you to simplify the loading of equipment and eliminates the need for cranes, which is a significant cost saving.
Advantageous cost. We do not need the services of third-party companies, so we can offer our customers the most affordable prices for motor yacht transportation services. The price will depend on the distance of the route and dimensions of the vessel.
Transportation of a motor yacht from Optimal Logistic
The process of providing transportation services can be divided into the following stages:
individual cost calculation;
selection of special equipment and route coordination;
departure to the place and loading;
delivery;
unloading.
Contact us by phone or leave an application for the transportation of the yacht directly on the site with your contact information, and our managers will provide you with a cost estimate, as well as answer all your questions.