Transportation of a sailing yacht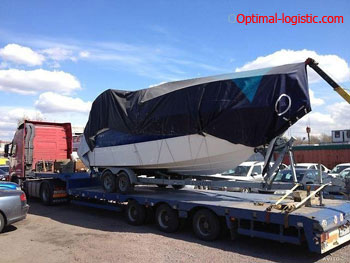 Optimal Logistic professionals know how to carry long-weight and heavy-duty cargoes. Here you can order a service – transportation of a sailing yacht. We will do our work quickly, qualitatively and inexpensively. We carry out delivery in Ukraine, Europe and Middle Asia.
Features of sailing yacht transportation
For transportation of small-scale water transport, modern technology is needed: a car with a platform, a trawl (with a front approach), or a special semitrailer-boat carrier with a super-landing, a rigging technique. The absence of a mid-platform semi-trailers-board boats, facilitates the convenient placement of a yacht's keel. The transport of sailing yachts to the destination is a labor-intensive and responsible process. Additional security measures are also needed: insurance and promotion tracking.
Documentation
You can order a sailing yacht shipping through the website of Optimal Logistic. It is possible to specify all the details of transportation of valuable oversized cargo by phone (by calling a call back).
Cost Estimate
Transportation of a sailing yacht is calculated taking into account the following data:
trip distance
dimensions, weight of cargo;
Shipping times;
used special equipment
Optimal Logistik LLC will process the documentation (accompanying), build an individual route, taking into account the dimensions of the floating means and features of the area, will ensure the safety of your property, will deliver timely delivery. Contact!