Transportation of crane (truck crane)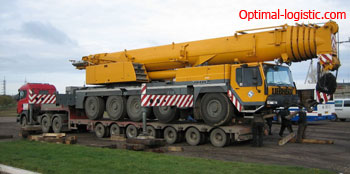 Our company Optimal Logistic has extensive experience in the field of transportation of various economic and construction machinery. We provide clients with a range of services for the transportation of cranes and other overall units at any distance. Transportation of the crane is at an affordable price, and it is an order of magnitude lower than that of competitors.
Benefits of Optimal Logistic
We have everything you need for an efficient and high-quality service – the transportation of cranes. The staff of experienced employees in the person of drivers with long experience, as well as qualified logisticians will provide for you the most comfortable transportation conditions. By cooperating with us, clients receive:
Fast registration of the order.
Preliminary calculation of the cost of services. You will know in advance the price of work on loading, transportation, unloading of equipment.
Transportation for long distances. We work not only in Ukraine, but also we carry out transportation to Central Asia, the countries of Europe.
100% guarantee of safety of the goods we are transporting. All equipment is securely fastened during transportation, it is delivered in the state in which it was loaded, without any defects. It is obligatory to inspect the goods during loading / unloading.
Fixation of transported equipment takes place with the help of cables and hooks, which are characterized by high strength. This ensures the stability of the aggregates, which eliminates the risk of falling or deformation of the crane parts during the passage of steep turns or overcoming road rises.By contacting our company, customers can be sure that the truck crane will be transported on time. We understand that much depends on the availability of special machinery on the construction site, any downtime leads to additional costs. We appreciate your and your time. Speed, as well as accuracy of delivery are one of the main advantages of Optimal Logistic.Our specialists specially develop the most convenient routes considering many important factors:
Traffic density of selected routes / highways;
presence and condition of railway crossings, bridges (their carrying capacity);
speed mode, in which the carriage of a tower and crawler crane is carried out;
presence of steep slopes or slopes of the road.
Description of stages and work process
Depending on the species, our company specialists select the necessary vehicles. The process of transporting a tower crane and transporting a crawler crane or truck crane is practically the same. It consists of 4 stages:
calculation of the cost (with the customer all the nuances of the work are stipulated, the cost is announced in advance, our prices are the lowest in the market);
loading;
transportation;
unloading.
We guarantee the safety of delivery of any equipment. You can order our services through the form on the website or by contacting us by phone. Managers respond quickly to all incoming orders, they are always ready to answer customer questions, please contact!