Transportation of pile-picking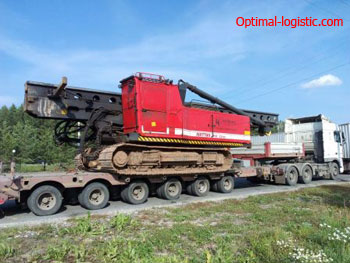 In Ukraine, Europe, Central Asia and other regions, construction of buildings on piles is actively used. Therefore, transportation of pile-picking is a demanded service. This equipment is designed to drive piles into the ground. Thanks to the services of our company, the transportation of the pile-up has become a more accessible task.
What kind of transport is used
When transporting in Ukraine and other countries, Optimal Logistic applies only new trucks. This is a special technique, adapted for moving heavy, complex and large-sized equipment. The following transport is used for the transport of pile-ups:
Trucks with low-bed platforms. Such a technique is capable of transporting equipment, the length of which exceeds 10 meters. At the same time, the pile-driver is carefully immersed by the crane on the platform. After that, it is securely fixed and only after checking the fasteners, the transport starts moving;
Sliding platforms are often used. They allow you to move long equipment laid horizontally;
The use of on-board transport is allowed.
First of all, international transport safety standards are taken into account. Based on them, it is already decided which transport to use.
How much does the transportation of the pile-picking cost?
The cost is based on several factors. First of all, the price of services includes route calculation, logistics. This is a compilation of the transport route, accounting for toll sections of roads, the presence of bridges, repair of highways and other circumstances. All this is important for the timely delivery of the sveeboy.In addition, the calculation of the cost of services involves fuel costs and payment of fees when crossing the borders of states. Contact us !.