Transportation of tractors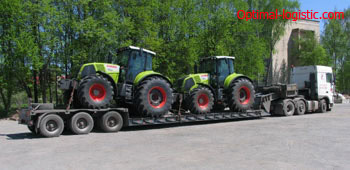 With Optimal Logistic, the transportation of tractors is carried out in various directions across Ukraine, Europe, and Central Asia. Using the service you get an excellent service. It consists in the following:
professional team of employees;
long-term experience;
100% reliability, safety and security of cargo.
Checkout You can:
on the company's website;
having called on the specified phones;
by means of electronic contacts, by filling in the preliminary order form on the cost calculation page;
having ordered a return call.
To clarify the details of the order, managers will contact you and agree on all conditions.Transportation of the presented equipment of various modifications, including the transportation of caterpillar tractors relates to delivery of oversized sizes, and also has a number of features. Our company has the necessary experience in this field, specialists will make logistics for the movement of special equipment, will help to arrange for the transportation of oversized cargo the necessary documentation.The company has the necessary equipment for the transportation of tractors, a sufficient number of trawls with a front-run to provide our customers with loading. We have experience in the transportation of wheeled tractors for agricultural enterprises, together with additional equipment, such as a harrow, seeder, mower. This will save time and costs.
Why transport tractor is better to order from us
Transportation of tractors to our company's services is fast delivery, avoidance of force majeure circumstances, highly professional employees, reliable special equipment with fasteners and chains, lower cost of services compared to competitors. We create for clients reliable and comfortable service, respecting and appreciating their time.By carrying out the transportation of the tractor with us, you do not have to worry about the result. Specialists of our company will offer you the optimal cost of services in this segment of the market. The principle of our managers' work is taking care of the client under any circumstances !.