Transport of header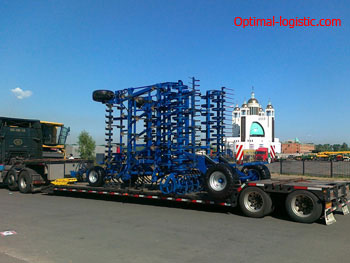 At the moment, the transportation of the header is considered very necessary for people who are engaged in agricultural activities. Due to the fact that many regions are aimed at the agricultural sector and most of the fields are located in different regions, the transportation of the header is very urgent.Optimal Logistic Company performs transportation in such territories:
in Europe;
in the Ukraine;
in Central Asia.
Harvesting transport
Transportation of equipment is realized together with units. It is worth noting that agricultural machinery is not a heavy equipment, therefore, it requires a trailer with a carrying capacity of 30-45 tons for its transportation. Also, we take into account that the header transport is a large-scale operation, therefore our trailers are equipped with special headlights. The transportation of the header is carried out according to all the rules of the road rules. Our company understands how important it is that the delivery of harvesters is timely, so we will carefully work out the route and calculate the exact time. If there is an unforeseen situation, we will certainly do our best to solve it and deliver the header to the necessary point of the country.
The cost of transportation
The cost of transporting the header depends on the distance. We also take into account the cost of the services we provide, such as loading and unloading. Note that when carrying out the transportation of individual units, the calculation of the cost of services is carried out differently, depending on the size and tonnage. With details and interesting information you can find on the site http://optimal-logistic.com/perevozka-zhatki/Why choose our company:
timely delivery of goods;
careful planning of the route;
fast processing of documents;
a huge option car.
We have modern tractors and trailers that will safely transport the header to any destination.