Transportation of crusher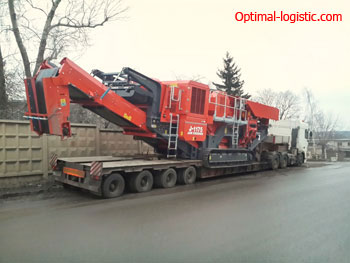 Professional transportation of the crusher is necessary, since this equipment is not mobile and can not move independently. Therefore, this service must be ordered from carriers who have a lot of experience in this. Since transporting crushers is an increased danger and complexity. After all, they are large in size and height. It is important to calculate the route in advance for Ukraine and other states.
How the process is performed
Transporting the Crusher by trawl is the most convenient way of moving this technique. It is often easier to transport it with a trawl than to dismantle and then reassemble. When moving across Europe or Central Asia, general international safety standards are observed. The equipment is placed on a platform and firmly fixed. This excludes the overturning of the crusher or the ramp from the platform. In the dark, the transport necessarily moves with the lights on and at a low speed.
What are the features of planning the transportation of crushers
Such a service requires serious planning. The cost and quality of delivery depends on this. When planning, the following circumstances are taken into account:
Distance affects fuel consumption. And the cost of services is based on fuel costs. Therefore, the company's logicians are choosing a short route without sections with repaired roads;
Availability of paid sections of the highway. Often, they need to be used for the purpose of urgent delivery of the goods;
The presence of bridges, support poles and other engineering structures. It is necessary to assess their height with a comparison of the height of the laden trawl.
In this case, the calculation of the cost of services is provided to the customer in advance. All the details are specified, and the transportation of crushers begins only after the customer has approved the route and additional costs.