Transportation of boilers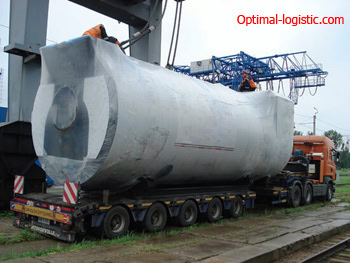 Steam boilers are used in many mining and processing enterprises. Such equipment reaches several meters in height and has considerable weight. Therefore, the transportation of boilers requires a clear study of the route and the use of special equipment.
How is transportation carried out
Transportation of boilers is carried out on powerful tractors with trailed platforms. Such cars are capable of moving loads with a mass of several tens of tons. Our company will execute an order for the relocation of the equipment in Ukraine, Central Asia and Europe. At the same time, Optimal Logistic assumes the task of loading the equipment and unloading it. Accordingly, the transportation of steam boilers does not require participation on the part of the customer. The movement of goods takes place only on new tractors that have undergone a complete pre-trip inspection. Therefore, the delivery of the boiler is carried out exactly at the agreed time without delays caused by a breakdown in the transport.
What is taken into account in calculating the cost
A key role is played by the cost of transporting the boiler. Accurate calculation allows you to save money for the customer and offer him the best option. In general, the cost of services is based on the following factors:
The total length of the path. It is necessary to take into account the repair of individual sections of roads, the presence of toll roads and uneven terrain.
If necessary, equipment should be reloaded for a different mode of transport. For example, delivery can be multi-modal, that is, include the use of several types of vehicles.
The fees for crossing the border, as well as forwarding services, are taken into account.
All the details of transportation of boilers must be negotiated with the customer. He is given a final estimate, which is not 100% increase.