Transportation of containers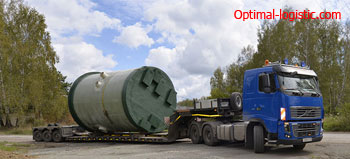 Today it is difficult to find a company that specializes in the transportation of complex cargo. For example, many organizations require the transportation of containers across Europe and Central Asia, but not every firm will undertake the execution of such an order. Our company is ready to perform this service in any size and volume.
Description of the service
Transportation of non-standard dimensions in Ukraine or in any other country is quite a complicated procedure, as this requires specific equipment and trained personnel. In our company, it is not the first time they have faced the solution of such problems, so it will be solved promptly. For transportation of oversized containers, the already prepared equipment is used, which is adjusted for the customer's request. Logisticians rationally build a transport route, so that the customer's cargo has been delivered to the destination in its original form. This is especially true for the case when it is required to transport oversized containers already filled with any liquids.
Cost
Transportation is evaluated based on the following criteria:
duration of the route;
the required volume of transportation;
complexity of the goods;
urgency of the implementation of logistics activities.
In Optimal Logistic, the cost is calculated immediately. You will not pay extra for transporting the goods after the arrival of the machine at the final destination. The estimated price is final and unchanged. If you need the service of transportation of oversized containers, then Optimal Logistic company will help you to fulfill it impeccably.