Transport of screening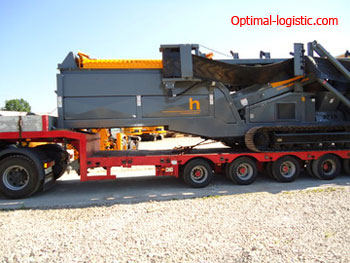 Self-transportation of the screen is complicated by its size. After all, this equipment is used for sorting the rock and is used by mining enterprises. Such equipment can reach a height of 4 or more meters, given the height of the trawl platform.
How to transport
Transporting the screen with a trawl is the best option for moving it over long distances. A trawl is a platform that clings to a truck tractor. Also low platforms are used so that the height of the screen does not interfere with the passage under the transmission supports or bridges. The geography of our company's activities covers Europe, Central Asia. In addition, transportation is carried out in Ukraine.
How much does the service cost
First of all, the price is affected by the distance to the end point. However, the cost of transporting the screen can be seriously reduced by the work of our company's logistics. They perform the following calculations:
The cost includes fuel costs. In order to reduce them, the logisticians are developing a route taking into account road repairs, plots of toll roads.
The price calculation includes border charges. They are necessary when crossing the borders of different states.
The cost of forwarding services may be included. They are very convenient for the customer, since they release him from filling in customs papers.
In any case, the price is stipulated in advance and does not increase during the rendering of the service. At the same time Optimal Logistic guarantees the delivery of the screen in the strictly within the indicated period, as well as its complete safety.